*** NEWS FLASH: Extending ONLINE REGISTRATION deadline to March 25th! ***
*** NEW: Added the great Jessica Boykin-Settles to our faculty list! Read her bio here: http://www.bullettesjazz.com/bios. ***
Jazz Girls Day DC is open to Middle and High School students who identify as women or gender non-binary. The day will include jam sessions, workshops, mentoring, and an afternoon concert at 4 pm. The concert is free and open to the public.
All activities will be held at John Calvin Presbyterian church at 6531 Columbia Pike, Annandale, VA 22003.
For more information, contact Shannon Gunn at 571-318-6278 or jazztothebone [at] gmail.com.
Instrumentalists: Bring your instruments. Drum set, keyboard, bass amp, keyboard amp, and PA system will be provided. Ample free parking is provided on site. Snacks provided. Workshops start at 11 am. This year's focus will be "Playing the Blues!" Advanced music is also available, please let Shannon know if you'd like to jam on the 4 pm concert at the end.
Registration Deadline March 25th, 2019 (online registration only, from here on out)
Fill out the form below to register. Registration is FREE for Jazz Girls Day. The concert is also free at 4:00 pm.
Schedule:
11:00 am – Meet and greet, snacks, warm ups
11:30 – An Introduction to Jazz
12:30 – Jazz Fundamentals
1:40 – Break out sessions
2:30 pm – Jam for students
3:00 pm – Building Confidence in the Music Business – Stacey Williams, the Jazz Cat Herder
3:30 pm – Doors Open for Concert
4:00 pm – Free Concert open to the Public featuring Jazz Girls Day DC Faculty, including:
Jessica Boykin-Settles, Vocals
Amy K. Bormet, Piano
Karine Chapdelaine, Bass
Tina Raymond, Drums
Charmaine Michelle, Trumpet
Shannon Gunn, Trombone
Read all their bios here: http://bullettesjazz.com/bios/
Check out other happenings with the Washington Women in Jazz Festival here: http://washingtonwomeninjazz.com/
Click here for the bio of Stacey Williams, Jazz Cat Herder:
Here is a poster for the 4 pm free concert: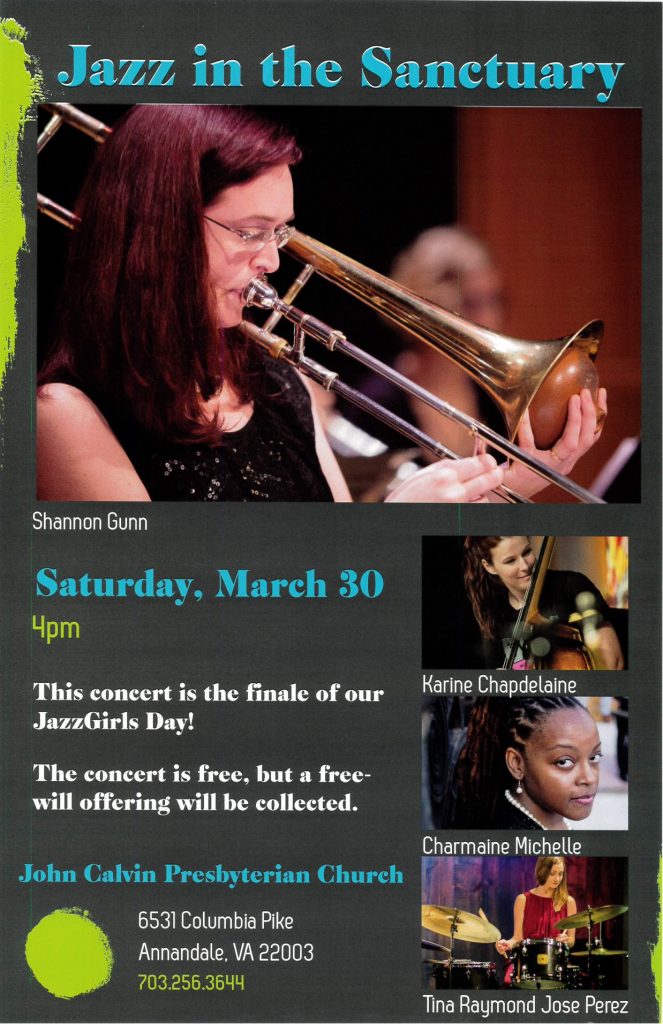 Many thanks to the Jazz Education Network and the Herb Alpert Foundation for supporting the first Jazz Girls Day DC event!